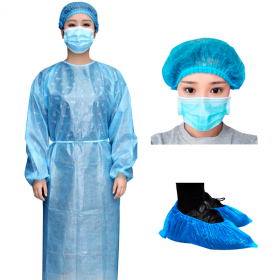 Protective equipment: PPE refers to equipment used to protect operators, including gloves, coats, protective clothing, shoe covers, respirators, masks, boots, goggles, etc. According to the protected parts, it is divided into respiratory protection, face (eye) protection, torso protection and other part protection, and its performance should meet the requirements of preventing liquid splashing and penetration. Medical PPE must meet relevant national standards or industry standards in order to achieve the protective effect.
Medical protective clothing is also called medical protective clothing, medical isolation clothing, and anti-virus clothing. Medical protective clothing refers to the protective clothing used by medical staff (doctors, nurses, public health workers, cleaning staff, etc.) and people entering a specific sanitary area (such as patients, hospital visitors, and people entering infected areas). Medical protective clothing has good moisture permeability and barrier properties, and has the function of resisting the penetration of alcohol, blood, body fluids, air dust particles, bacteria and viruses, and effectively protects the safety of personnel and keeps the environment clean.
Medical protective clothing is a one-piece clothing consisting of a hat, coat and pants. Medical protective clothing mainly includes isolation clothing and protective clothing. The main difference between medical protective clothing and isolation clothing is that medical protective clothing is more durable than isolation clothing, has a higher protection level, and has better protection performance. The protection purposes and protection principles of the two are different.
---