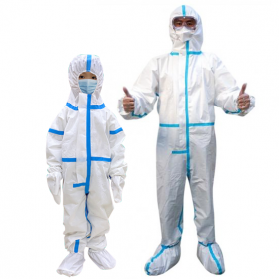 Medical protective clothing refers to the protective clothing used by medical staff (doctors, nurses, public health personnel, cleaning staff, etc.) and people entering specific medical and health areas (such as patients, hospital visitors, personnel entering infected areas, etc.) . Its function is to isolate germs, harmful ultrafine dust, acid and alkaline solutions, electromagnetic radiation, etc., to ensure the safety of personnel and keep the environment clean.
Medical protective clothing can be divided into disposable protective clothing and reusable protective clothing according to its service life.
Disposable protective clothing is discarded after use, without disinfection or washing. It is easy to use and can avoid cross-infection. However, disposable materials degrade slowly and easily cause environmental pollution. Usually, surgical gowns and isolation gowns with high requirements for protection use this type type. The reusable type needs to go through washing, high temperature disinfection and other measures after use. Generally, the comfort of the material is better, but the protection performance is usually poor. The washing and disinfection process will also increase a lot of manpower and water resources costs, and usually require little protection Daily work clothes (white coats) often use this type.
---
Showing 1 to 14 of 14 (1 Pages)