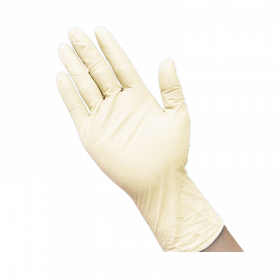 Latex gloves are one kind of gloves, which are different from ordinary gloves and are made of latex. It can be used as household, industrial, medical, beauty and other industries, and is a necessary hand protection product. The latex gloves are made of natural latex and matched with other fine additives. The products have special surface treatment and are comfortable to wear. They are widely used in industrial and agricultural production, medical treatment, and daily life.
Latex medical gloves are made rigorously.
This glove has a rigorous production process and excellent protective effect. It is specially designed for medical operations that frequently change.
Disposable latex doctor gloves with universal curled cuffs for left and right hands, easy to wear.
Meet or exceed all safety and quality standards. Latex gloves are powder-free, suitable for food and medical use, and are an economical choice among gloves. Types of anti-epidemic caps include:
Powder-free latex gloves
Beige latex gloves
Food grade latex gloves
Medical grade latex gloves
---
Showing 1 to 8 of 8 (1 Pages)