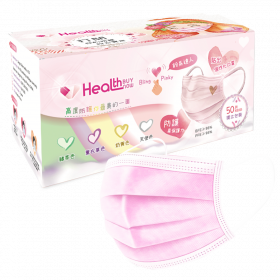 Middle child (7-12 years old)
Child protective masks are mainly three-dimensional, with good adhesion, and can prevent the inhalation of microbes, droplets, dust, pollen and other particles. It can be used in medium-pollution or potentially medium-risk environments, such as haze days, high flu seasons, and large (level Ⅲ) public health emergencies in stations, public transportation, airports, supermarkets, etc.
Children's hygiene masks are mainly flat and have good comfort and can block the spread of particles such as microorganisms, droplets, dust, and pollen. It can be used in low-pollution or low-risk environments, such as daily cold, flu, pollen season, and general (level IV) public health events in restaurants, classrooms, workplaces, dormitories, etc.
The mask should be able to cover the mouth, nose, and jaw safely and firmly without any peculiar smell. The mask will not be damaged or deformed during the normal service life. It should not significantly affect the field of vision.
Mask raw materials shall not be recycled materials, materials known to cause skin irritation or other adverse reactions shall not be used, chlorine bleaching treatment shall not be carried out, migratory fluorescent whitening substances shall not be detected, mask formaldehyde content ≤20mg/kg, ring The residual amount of oxyethane ≤ 2μg/g, and the residual amount of other restricted substances shall meet the relevant requirements.
Masks must not detect coliforms and pathogenic pyogenic bacteria, the total number of fungal colonies ≤ 100 CFU/g, and the total number of bacterial colonies ≤ 200 CFU/g.
For masks equipped with breathing valves, the breathing valves should not slip, break or deform, and the internal parts should not fall off during normal use.
Masks should not use lace-up mask straps. The breaking strength of the mask band of the child protective mask and the connection with the mask body is ≥15N, and the breaking strength of the mask band of the child hygiene mask and the connection with the mask body is ≥10N.
For masks equipped with nose clips, the length of the nose clip should be ≥5.5cm, and it should not break when folded 20 times.
The inner material (including the mask belt) of the mask in direct contact with the skin should not be printed or dyed (including the coloring of the original liquid), and the pH value is 4.0 to 7.5. The outer layer of printed or dyed masks has a color fastness to dry rubbing ≥ 4, and the masks are prohibited from decomposing carcinogenic aromatic ammonia dyes.
Masks should have certain flame retardant properties, and there should be no exposed metal objects, sharp points and sharp edges that can be touched.
---
Showing 1 to 4 of 4 (1 Pages)