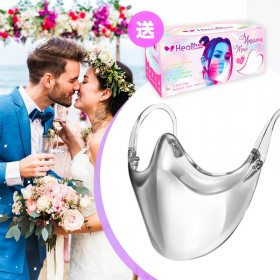 Both large weddings and small weddings will encounter a major problem, that is, they need to receive guests, but they also have to avoid the outbreak of coronavirus at the wedding. In addition to the maximum number of people at the wedding, the interaction between the wedding and the staff will cause droplets and virus transmission. Therefore, prevention of epidemic shock is very important. Wedding masks, wedding masks, wedding transparent masks, wedding goggles, wedding protective clothing, banquets, banquet arrangements, banquet thermometers, banquet wedding masks. All types of anti-epidemic supplies are available for wedding use.
Have fun at the wedding. Guests are also required to be safe, so adequate epidemic prevention measures must be taken care of. I understand that the wedding is the most beautiful moment for the couple, but I am afraid that facial expressions will be covered by masks and the photos taken are not beautiful enough. But transparent masks can be used. Transparent masks effectively block the spread of droplets, ensuring guests peace of mind. Colleagues can show good looks on the photos taken.
Since the transparent mask does not reflect light and serves as a defense, it will show up afterwards. Make the shooting more realistic and the appearance of the newcomer more beautiful.
But in order to fight the epidemic, newcomers are advised to wear three-proof masks as soon as possible after shooting to ensure safety.
---
Showing 1 to 3 of 3 (1 Pages)